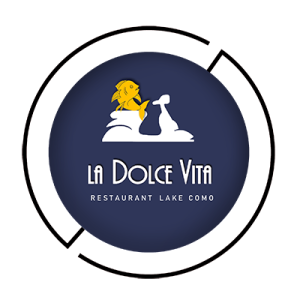 For a pleasant stay, Villa Marina recommends the "Restaurant La Dolce Vita" restaurant,
located 100 meters (0.06 miles) from the hotel, where you can taste typical regional and Lake Como dishes.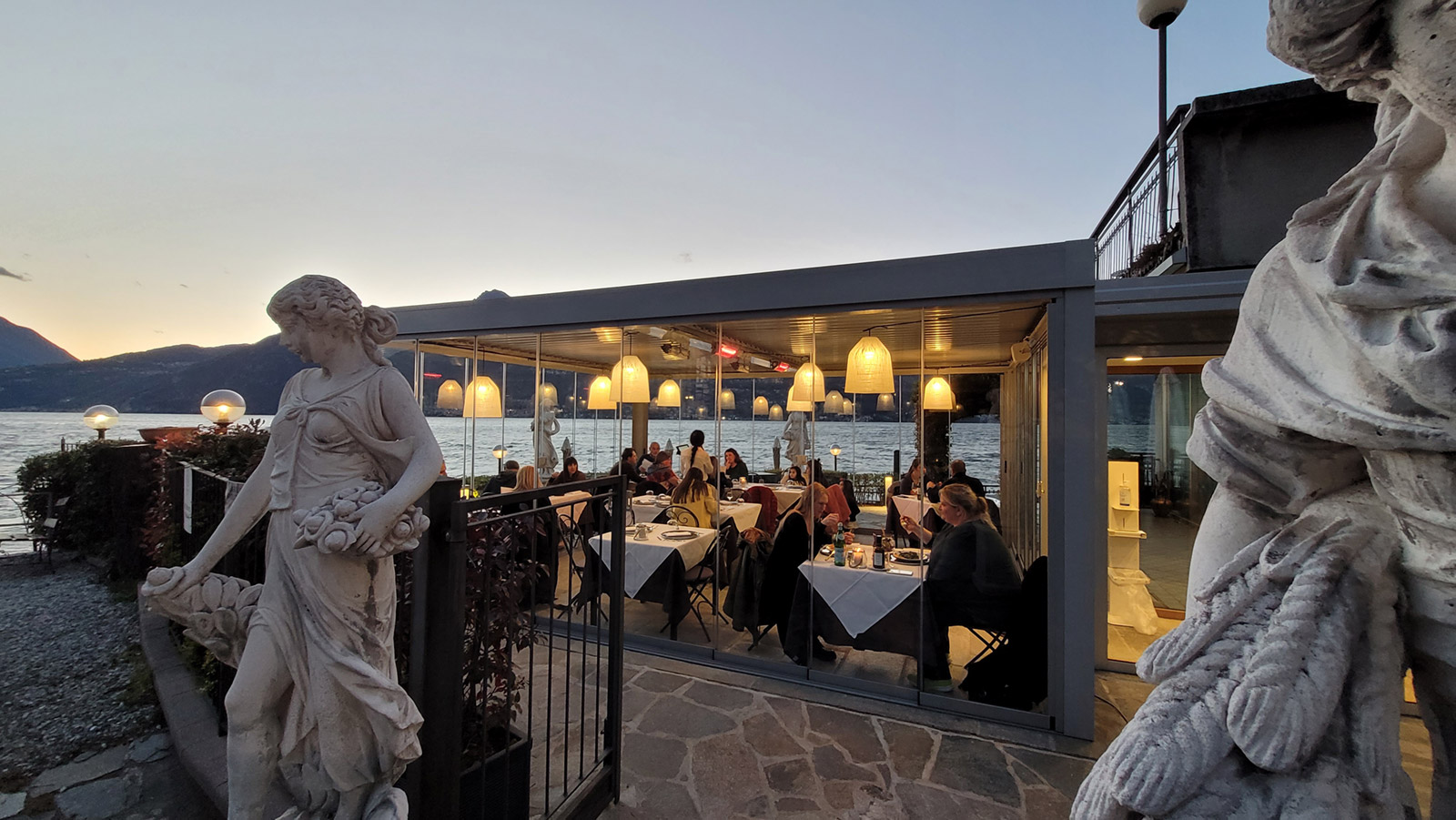 La Dolce Vita restaurant is located in Bellano, a town lying on the eastern shore of Lake Como. Our exclusive location allows you to admire magnificent sunsets when, as the lights go down, the last timid rays of the sun hide behind the mountains, giving the romantic dinner that touch of intimacy that makes the evening perfect.
Our cuisine reflects the traditions of Lake Como and Valtellina, we use local products, enhancing the area around us. We also offer typical dishes of traditional Italian cuisine in which fresh pasta is the undisputed protagonist. What about the desserts and ice cream, all strictly artisanal, prepared with care and professionalism by our chef.
It is highly recommended to book as the restaurant is in high demand in high season and there is a risk of not finding a place.
The restaurant
A space with a special energy
Seminars, incentives, company trainings or retreats – the rooms in the restaurant offer the ideal space, away from daily distractions and stress. The conference room with direct access to the terrace can accommodate up to 30 people. Modern presentation technologies and culinary specialties complete our offer. Perfect prerequisites for optimal results!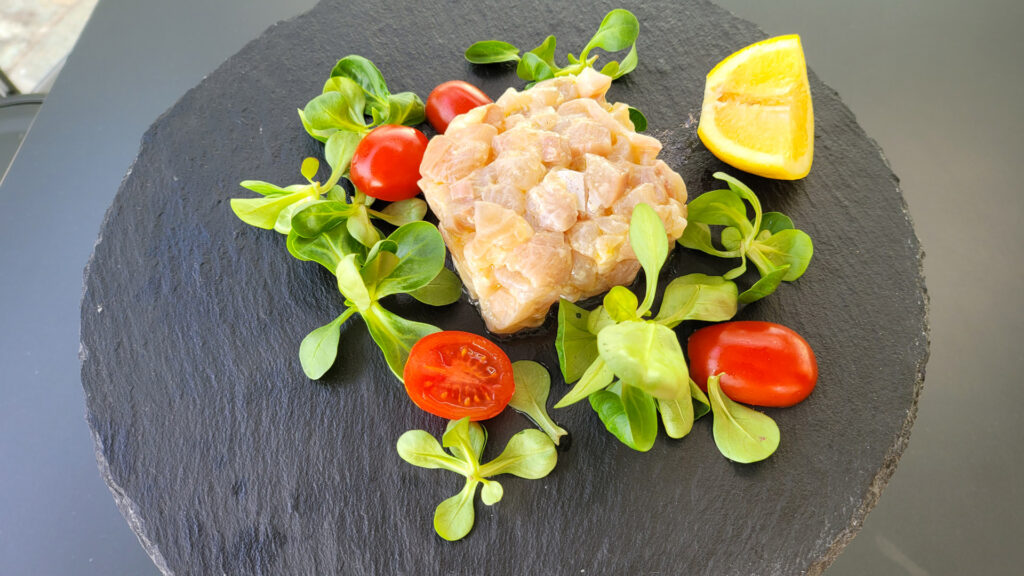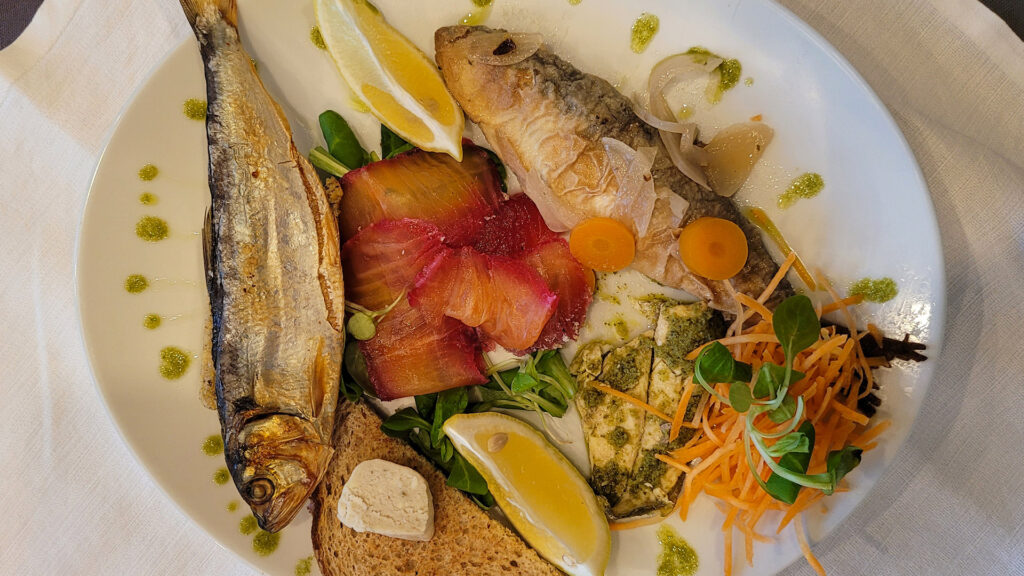 Menu
APPETIZER
LAKE MIX APPETIZER
Missoltino filet on grilled polenta, lavarello filet with green sauce, marinated agone with sweat and sour vegetables, chub pâté on a slice of toasted black bread
SALMON FILET
Salmon filet marinated with beetroot, herbs and ginger on mixed salad served with dill sour cream
TARTARE LA DOCLE VITA
Fish filet (based on the fish caught) cut into cubes and served with salad, EVO Oil from Como Lake and citronette
LA TRADIZIONE
Classic plate of local products: prosciutto "fiocco Valtellina", bresaola DOCG from Valtellina, local salami, coppa, lard on grilled polenta, local sweat and sour pickled vegetables
THINLY SLICED BRESAOLA
Thinly sliced bresaola with wild arugula/rocket and casera "vecc" (seasoned cheese) flakes
LA VALTELLINA
Bresaola DOCG from Valtellina, Sciatt (croquette with buckwheat flour and cheese) & Taroz (potato, onion, green bean, butter)

FIRST DISH
RAVIOLI DI LAGO
Ravioli homemade filled with lake fish (based on the fish caught) sautéed with butter, sage and herbs
TAGLIATELLE DOLCE VITA
Seaweed "spirulina" homemade tagliatelle sautéed with lake fish ragù and seasonal vegetables seasoned with "mur" thyme
PERCH RISOTTO
Risotto creamed parmigiana-style with butter and sage perch filet
I PIZZOCHERI
Traditional Valtellina pizzoccheri homemade with potatoes, savoy cabbage and Casera cheese seasoned with butter, sage and garlic
LA CARBONARA
Tagliatelle homemade, egg yolk, bacon and "rostii" cheek lard, Grana Padano DOP and pepper
LA VEGETARIANA
Fresh homemade pasta bronze-drawn sautéed with Lake Como oil and seasoned with fresh herbs
LASAGNE ALLA BOLOGNESE
Traditional homemade lasagna, meat ragù, béchamel and Grana Padano DOP
MELANZANE ALLA PARMIGIANA
Eggplant baked with tomato, mozzarella, basil, Grana Padano DOP and Lake Como oil

MAIN MEAL
(served with side dish)
FISH
IL LAVARELLO
Lavarello filet with butter and sage
FRITTO MISTO LA DOLCE VITA
Variety of fried fish based on the fish caught
GRIGLIATA DI LAGO
Whole or sliced fish of the day grilled
CACIUCCO DI LAGO
Mixed lake fish filet based on the fish caught with tomato and vegetables with herbs
MEAT
COSTOLETTA ALLA MILANESE
Classic calf spare rip breaded and fried into butter
OSSOBUCO DI VITELLO
Calf ossobuco served with the traditional milanese risotto
ENTRECOTE
Meat entrecôte high temperature cooked
SALAD
LA VALTELLINESE
Mixed salad, tomatoes, sliced "golden" apple from Valtellina, Casera cheese cut into cubes, bresaola DOCG and nuts
MARINA
Mixed salad, tomatoes, carrots, green beans, basil, black olives, small mozzarelle, tuna and anchovy
LA VEGANANA
Mixed salad, tomatoes, carrots, green beans, mix boiled legume, seeds and dried fuits, soy cream
LA CARNIVORA
Mixed salad, tomatoes, carrots, green beans, grilled chicken breast and toasted black bread
DESSERT
(homemade)
IL TIRAMISU – Traditional Tiramisu
CREME BRULEE – Based on seasonal aroma
LA DOLCE VITA – Dessert triptych and homemade ice cream
I FORMAGGI LOCALI – Local cheese served with honey, nuts and fresh fruits
COPPA DI GELATO – Homemade ice cream in different flavours
MACEDONIA – Seasonal fresh fruits